Filter by Category
Home & Garden
Farming with Natives
with David Spahr

May 24, 2022 at 6:30 pm

, runs for 1 week
This class is about how you can grow and harvest edible native plants. David has been farming his land (and a nearby public plot) in Washington, Maine for many years, and his PowerPoint will show the native plants he farms with - such as wild highbush blueberries, American chestnut, Viburnums and dozens more - while he provides a discussion of the ecological implications.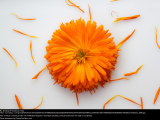 Calendula Salve and Lip Balm from Fresh Flowers
with Jacinda Martinez

Aug 17, 2022 at 5:30 pm

, runs for 1 week
In this class, you will learn how to harvest calendula flowers in order to make salve and lip balm. Jacinda will also demonstrate how to harvest a few other plants, but calendula will be the focus. She will then demonstrate making salve and lip balm with already prepared materials. You will leave class with 1 tin of salve and 2 lip balms.