Filter by Category
Music, Dance & Theater
Online Registration Unavailable
Acoustic Guitar for Beginners
with Marc Bubar

Jan 6, 2021 at 6:30 pm

, runs for 6 weeks
Learning to play the guitar can be fun and very rewarding! In this introductory course we will learn the names of the parts of the guitar and how to tune a guitar. We will cover the names of the notes on the guitar, learn some basic strumming patterns and try out some picking as well. Moving on to chords and common progressions, we will work up to playing a complete song of your choice, if students wish. Students should have their own guitar and an acoustic guitar tuner (clip-on style is best) and bring it to every class – we will be focusing on the acoustic steel-string or nylon-string guitar. The instructor will have handouts and course materials available for the students. No experience is necessary!
Online Registration Unavailable
Magic Lessons for Everyone: Fun for a lifetime! JAN
with Rick Bernard

Jan 7, 2021 at 6 pm

, runs for 4 weeks
You can do magic! Magic is fun for both the audience and the magician. You will learn a variety of fun and easy magic tricks to astound friends, relatives and strangers for a lifetime and you will have fun learning every week.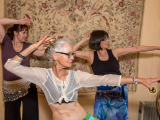 Online Registration Unavailable
Middle Eastern Dance 2
with Patti Luchetti

Jan 14, 2021 at 6:30 pm

, runs for 4 weeks
NEW DATES
Middle Eastern Dance (Bellydancing) is native to the ancient middle east. It was widely spread by migrating tribes from India, north to Turkey, and west to Spain. Egypt is a renowned center of the art form in modern times and Cairo now hosts respected dances from Asia, Europe, and the USA. Belly dancing gives gentle, strengthening exercise to the full torso with an emphasis on the belly and thighs.