Filter by Category
Music & Dance
Dance - It's All Swing!
with Katie Tranzillo

Next session starts Oct 15, 2018 at 6:30 pm

, runs for 4 weeks
Explore four dance styles within the genre known as "Swing": rockin' East Coast Swing (aka jitterbug), smooth West Coast Swing, cheerful Charleston, and joyful Lindy Hop. The instructor will teach moves, styling and music for each dance, and technique and partnering skills you can apply to any dance style. Learn enough in class to get right onto the dance floor! No partner or experience needed as we can rotate partners. Class size limited to 6 leaders and 6 followers. Registration $35 single/$50 couple (includes friends) 4 weeks 6:30-8:00 p.m. Begins Mon 10/15 CHRHS Dance/Wrestling Rm Katie Tranzillo is an independent dance instructor in midcoast Maine, with 17 years of experience. Through her business, JoyfulDancing, she provides professional dance programs, fosters a community of dancers and friends, and spreads the joy of dance to everyone. Find her at www.joyfuldancing.com
Native American Flute for Beginners
with Laura Perkins

Next session starts Oct 10, 2018 at 6 pm

, runs for 3 weeks
The Native American flute possesses a haunting sound that has been described as "touching the soul." In this class musicians and non-musicians will learn how to play this unique instrument. No music reading ability is required because the instructors use a finger numbering system. 6-hole flutes in G are provided which you can sign out for home practice. There is a $25 charge, payable to the instructor, for the Learn to Play book/cd combo. Registration $35. 3 weeks 6:00-8:00 p.m. Begins Wed 10/10 CHRHS Rm 228 Laura Lee Perkins, of Maliseet ancestry, is a professional flutist, educator and writer. She has taught at Bowdoin, Bates, Prescott and Rio Salado Colleges. Her husband Ken Green, of Mic-Mac heritage, is known worldwide for his beautifully hand-crafted Native American-style flutes. Visit www.whiteowlproducts.com for more information.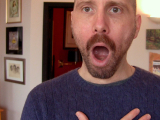 Vocal Technique to Free Your Voice
with Anna Dembska

Next session starts Dec 3, 2018 at 6 pm
Learn how to access your body, breath, imagination, emotions, and awareness to create beautiful and creative music with your voice. As we explore techniques of relaxation, breath, resonance, improvisation, and singing together, you'll discover ways to strengthen and expand your vocal power, range, flexibility, and pleasure. The class is designed for people who "can't sing" or just want to explore their voices, as well as more experienced singers looking for effective methods to incorporate into their practice and performance. Bring a blanket or yoga mat to class. Registration $25. 1 night 6:00-8:30 p.m. Class Mon 12/3 CHRHS Rm 219 Anna Dembska has taught voice and musicianship for over thirty years at a number of venues, including New York University and the Metropolitan Opera Guild. She enjoys teaching people to sing beyond their expectations.