Filter by Category
Home & Family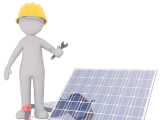 Online Registration Unavailable
Transition Your Home or Business From Fossil Fuels
with John Luft

Apr 14, 2020 at 6 pm

, runs for 1 week
In this class we will explore the technologies and economics involved with transitioning our homes and small businesses away from fossil fuels to electricity. We will look into air source heat pumps, heat pump water heat, electric vehicles and solar electric energy systems. We will cover some of the design considerations and the economic effects of this transition.
Online Registration Unavailable
Design Your Maine Landscape
with Sharon Turner

Apr 15, 2020 at 6 pm

, runs for 8 weeks
Do you want to make the most of your yard and gardens? Then this field-based class is for you! After the first meeting classes will meet at each participant's property where individualized, site-specific options will be explored. Organic practices will be emphasized as will the incorporation of native plants, especially those important for birds, bees, butterflies and other beneficials. Please give us your physical address when registering. The first night is mandatory, students will receive information and subsequent garden visits will be planned for all participants - this will be the only meeting held at CHRHS. Dates and times of subsequent meetings will be determined that evening. $10 for materials (handouts) to be paid to the instructor. Approximately 8 weeks total, with some meetings at gardens on weekdays and some on weekends. The final meeting will be at the instructor's nursery in Washington. Read more about Sharon here.
Online Registration Unavailable
Genealogy for Beginners
with Dorothy Prescott
Learn how to gather and organize information in your own family history search. This three-part class will lead participants through the basic process of uncovering and sorting through the wealth of genealogical information available on the internet and from other sources.