Filter by Category
Health & Wellness
Online Registration Unavailable
Essential Oils for Immune System Support
with Laura Philbrook

Dec 8, 2020 at 6 pm

, runs for 1 week
NEW  DATE
There is a growing body of research demonstrating the efficacy of essential oils as agents of healing due to their antibacterial, anti-fungal, antiviral, immune-boosting, anti-inflammatory and antimicrobial properties. In this class we will learn about different essential oils that support our immune system and make essential oil infused elderberry syrup. Handouts and additional recipes will be provided. A materials fee of $20.00 is payable to the instructor at class.
Online Registration Unavailable
Cultivating Healthy Lifestyle Habits
with Kate McMorrow

Jan 6, 2021 at 6 pm

, runs for 6 weeks
RESCHEDULED TO JANUARY Making healthy lifestyle choices might seem simple, but it isn't necessarily easy. This class will offer guidance and tools to encourage each person to set health and wellness goals that are individualized, sustainable and FUN! Come be inspired to make some changes toward enjoying your healthy lifestyle!!! A $5.00 materials fee is due to the instructor at class.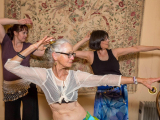 Online Registration Unavailable
Middle Eastern Dance 2
with Patti Luchetti

Jan 14, 2021 at 6:30 pm

, runs for 4 weeks
NEW DATES
Middle Eastern Dance (Bellydancing) is native to the ancient middle east. It was widely spread by migrating tribes from India, north to Turkey, and west to Spain. Egypt is a renowned center of the art form in modern times and Cairo now hosts respected dances from Asia, Europe, and the USA. Belly dancing gives gentle, strengthening exercise to the full torso with an emphasis on the belly and thighs.