Filter by Category
Computers and Technology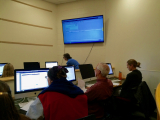 Online Registration Unavailable
Microsoft Excel 2016 - Basics
with Dorothy Prescott

Apr 27, 2020 at 6 pm

, runs for 6 weeks
Widely used in office settings, knowledge of Excel 2016 will enhance employment possibilities. This course teaches the basic setup and use of spreadsheets to new users, or can be taken by Excel users wishing to refresh their skills. Included are editing and formatting of cells and the use of basic formulas.
Online Registration Unavailable
Become an Online Business Powerhouse
with Branden Densmore

Apr 29, 2020 at 6 pm

, runs for 6 weeks
Learn how to create branded LIVE videos on Facebook. Get the edge on competition using an ultimate Facebook video hack, expanding your influence to Pinterest, YouTube, Linked-in, and Instagram. Take your business to the next level and hit the ground running using Square and PayPal to collect payments. Set up Mailchimp and become a confident and ethical online seller! This course requires that you have some related computer skills including some experience with the sites we will be working with.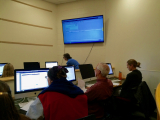 Online Registration Unavailable
QuickBooks 2019 – Introduction to Online Version
with Dorothy Prescott

Apr 30, 2020 at 6 pm

, runs for 6 weeks
Learn to navigate one of the most widely used accounting software applications - QuickBooks. This program is an enormous aid in paying bills, invoicing, tracking expenses and creating reports to manage your small business or company better. This course will include hands-on experience and will use QuickBooks Online Version.