Filter by Subcategory
Business & Workforce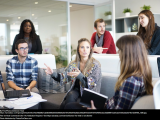 Online Registration Unavailable
Workplace Communication Certificate
with Sally Klauss and Greg Marsello
Good communication in the workplace is more important than ever. And critical to your career advancement and success. Come get a comprehensive and intensive preparation with skills and techniques you can put to use on Monday morning.  Take back a workable conflict management model, along with successful and practical conflict management strategies.  Then work with a pro to learn how to improve your negotiation skills for a win-win outcome, including helping others to get what they want, so you get what you want.  Finally, find out more about yourself and others using personality profiles for better work performance. You will be learning from some of our more popular instructors, and taking away new how-to skills that work.
CEUs/ILUs: 5.6
Length (in hours): 56
Price in USD $595
Offered 4 times/year, call for dates.
Online Registration Unavailable
Certified Clinical Medical Assistant with CCMA Certification
with Falecia Kaewthong
Medical Assistants are responsible for a variety of medical office tasks from administrative to technical and scientific duties and must have quality human relations skills.   Some of the job duties include cleaning and dressing wounds, taking blood samples, administering medications, taking vitals, preparing a patient for EKGs, obtaining a patient's history, and assisting physicians during examinations.  Our program provides virtual reality style classroom work as well as traditional style teaching for a blended learning experience.  Practicals are performed during the program to ensure that the student has proper techniques and will be ready to pass the National Certification.  Upon completion of the program, you will sit for your CCMA (Clinical Certified Medical Assistant) national certification exams through NHA. Tuition includes national certification, 6 practice exams, online study guide materials, books, resume assistance, and all other associated fees.  Externships may be available in your area. Payment plans are available for all medical certificate programs.
New grants are available for Medical Assistant, Pharmacy Tech, and CNA training programs, call us to see if you qualify for FREE training.
This training is offered in collaboration with The Academy of Medical Professions. The program takes place on-site in Rockport. Call our Adult Education office for more information.